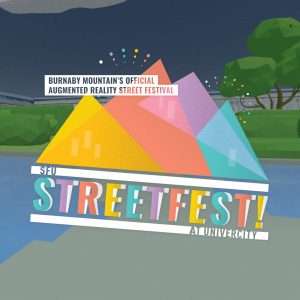 StreetFest! is an annual community street festival hosted by SFU and the UniverCity Community Association to bring people together around the world and showcase the best of what the SFU community has to offer. This year, for the health and safety of the community, we are hosting a completely virtual StreetFest!, using an augmented reality platform accessible by both desktop and mobile. With a lineup of virtual activities, workshops, and even a few surprises, StreetFest! continues to be a vibrant social experience, connecting people not only in Burnaby, but also in the Greater Vancouver Area and beyond.
Come celebrate the SFU community in our virtual Academic Quadrangle at SFU StreetFest! Virtual 2021 on January 21st and 22nd, 2021. Visit our community booths using augmented reality, attend an activity session in our virtual lounge or watch local musicians on our entertainment stage and much, much more. Check http://street-fest.ca for more info.
Bringing community together since 2018!